World-Class Sportfishing in the
Gulf of Chiriqui
Sport Fish Panama Island Lodge is a private, family-owned and operated island lodge on Isla Parida, 12 miles off the Pacific Coast of Panama. The island is located in the Chiriqui National Marine Park, in the heart of the Gulf of Chiriquí, one of the premier saltwater fishing destinations in the world. Isla Parida is close to Panama's world-class fishing grounds of the Hannibal Bank, Isla Montuosa, and Coiba, which are some of the best places in the world for trophy Black & Blue Marlin and Yellowfin Tuna.
The island, with pristine jungle and white sand beaches, is completely "off the grid". Although remote, it has all the modern amenities such as Air Conditioning, Hot Water, and High-Speed Internet service.
Their location is just one of the advantages they have over the other lodges, as being 12 miles offshore, means shorter runs to the fishing grounds. They cater to fishermen who are looking for a world-class fishing destination in a remote location, with upscale accommodations, excellent food, highly maintained fishing boats, professional Crews, and top of the line fishing equipment.
At Sport Fish Panama Island Lodge, everything is included in their All-Inclusive VIP Package. Gourmet appetizers and "over the top" meals are prepared by their Chef. Soft drinks, bottled water, beer, and cocktails, are all included! Their bar is stocked with local Abuelo Rum, Absolut Vodka, Jack Daniels Whiskey, Johnny Walker Black Scotch, 1800 Tequila, Tanqueray Gin, a wide selection of South American white and red wines, and cold Panama Beer. If you or someone in your group have a specific food or alcohol preference, just let us know and we will make sure that we pass that along so they can accommodate you.
Bring your laptop or iPad, as the lodge has WiFi Internet access in all of their guesthouses and lodge grounds.
Daily laundry service is included!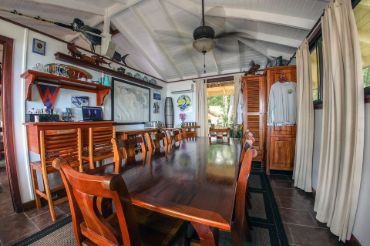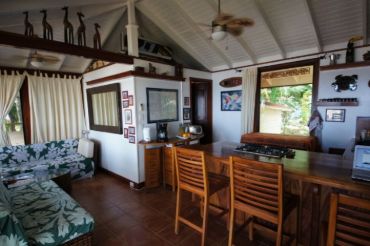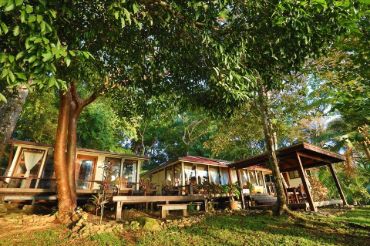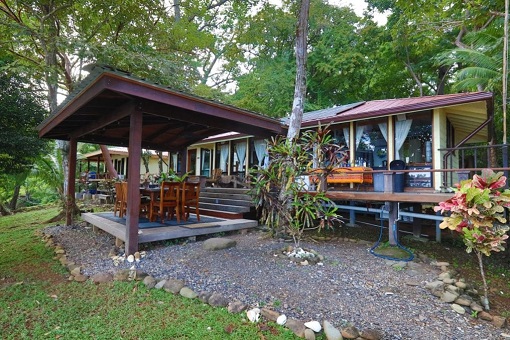 The Lodge
The lodge overlooks the coastline of the jungle island of Isla Parida, 12 miles off the Panamanian coast. A huge white sand beach and rocky coastline are the views from the three nicely appointed private guesthouses that are surrounded by the jungle canopy. They have two 3 bedroom guest houses and one 2 bedroom guest house, with the capability to lodge up to 18 guests comfortably. All have spacious living areas, private bathrooms, and ocean-view decks. They are equipped with: A/C, Hot Water, Wi-Fi Internet access, fully stocked Mini Bar, YETI cooler packed with beer, soda & water, and large flat-screen TVs.
Activities on the Island
The island has two large beautiful white sand beaches, all within walking distance of the lodge. Both beaches can be accessed by seaside paths through the jungle that leads to their two Beach Bars. The bars are attended by their staff and both Beach Bars have ocean Kayaks available to use. The Kayaks are great for exploring around the island and taking trips to the many tiny islands within the park. Bring your snorkeling equipment, as there are some great areas in front of the lodge that is good for diving for Lobster, Conch, or just checking out the sea life. You can also hike around from beach to beach through the numerous jungle trails. Lots of ground and area to cover. Definitely a great area if you're into exploring nature.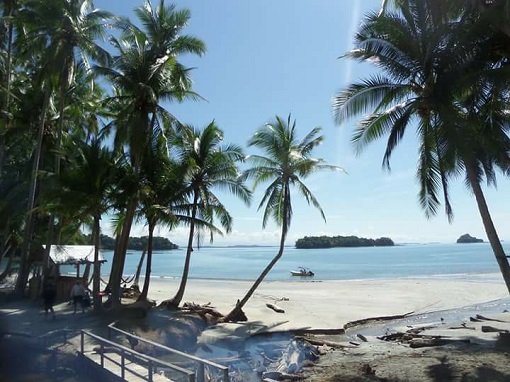 The Boats
T.O.P. CAT • SEA TOY • COW BOY • FAT CAT
33′ World Cat Center Console Catamarans
300 hp 4 stroke Suzuki outboards
SIMRAD /Radar/GPS/Sonar
Outriggers, Live-Well and Tuna Tubes Fully rigged to fish
A very large stable platform, with a 10′ 6″ foot beam
Sound System
For groups of up to 5 people
All boats are equipped with bean bags for a comfortable ride out to the fishing grounds and YETI Coolers packed with ice for the day's refreshments. All boats are equipped with safety equipment including Life Jackets, First Aid Kits, Flares, and Ship-to-Shore VHF Radios.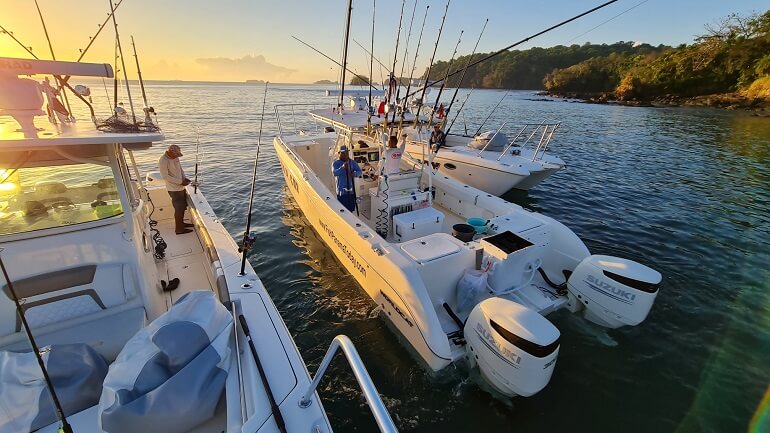 Fishing in Panama
There is a wide variety of Inshore and Offshore species in the Gulf of Chiriqui to choose from. More than 20 different game fish can be caught on any given day. Yellowfin Tuna, Black and Blue Marlin, Pacific Sailfish, Wahoo, Cubera Snapper, Dorado, Amberjack, and Roosterfish, are primarily the species you'll be targeting. The boats are outfitted with top-of-the-line tackle and equipment provided by sponsors Mustad, Accurate Reels, Yo-Zuri, and Blackfin Rods.
If you'd like to target Marlin/Yellowfin Tuna, you'll fish the areas around either Isla Ladrones, Isla Montuosa, or Hannibal Bank, depending on where the best activity is. Most likely it'll be around Isla Montuosa, or Hannibal Bank. Both areas are basically underwater mesas where bait fish like to congregate. The fish will be where the food-source is, so that's where you'll concentrate your efforts. The Captains mainly like to fish live bait for Marlin, Tuna, and other offshore species.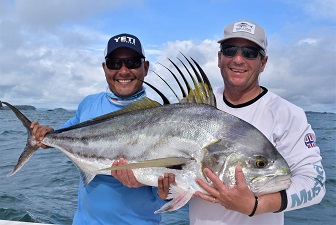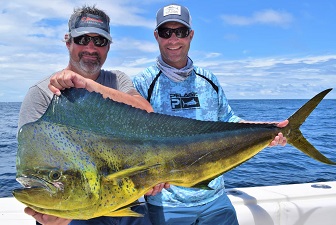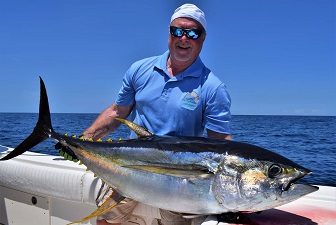 Blue Runners and Bonito will be caught offshore, bridled with large circle hooks and slow trolled or drifted, in fishy areas. If live bait is not getting it done, you'll also troll lures and rigged Ballyhoo. They will also chunk dead Sardines to target big Tuna, as well as throw Poppers and Jigs. Whatever it takes!
When you turn your attention to Inshore, fishing for species like Roosterfish and Cubera Snapper, you'll still use live bait, but there is also a good opportunity to cast Poppers and Swim Baits around the island groups many rocky shorelines.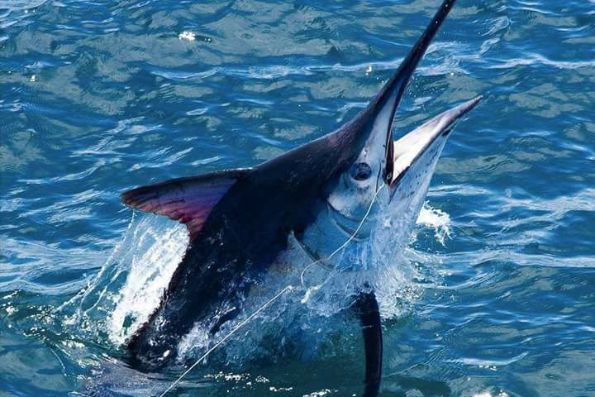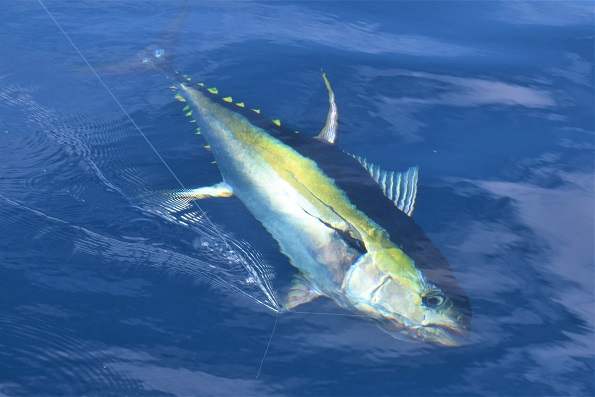 All of the boats are equipped with Accurate ATD-80 reels with 100 lb. Momoi monofilament, Accurate ATD-50W reels with 80# Momoi monofilament, and Accurate ATD-12 reels, spooled with Yo-Zuri 65# Super Braid line. All paired with Blackfin stand up rods and AFTCO "SeaMount" Stand-Up Harnesses for Marlin and Tuna.
They also have an array of brand new Accurate Dauntless and Valiant conventional reels, as well as Shimano Stella, Twin Power and Saragosa spinning outfits, spooled with 65# Yo-Zuri Super Braid. All matched with USA made Blackfin and Japanese made Temple Reef rods. They've got you covered if you're into casting, popping, or jigging, with lighter tackle.
Around Isla Parida, there are some great opportunities for Roosterfish, Cubera Snapper, Amberjack and many other species. You're also only a short run away from Isla Coiba, Isla Secas, Isla Ladrones and Isla Montuosa, which also have great Inshore Fisheries. Over a week's time, you'll have opportunities to check out many different areas if you're looking for variety.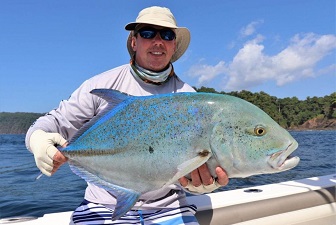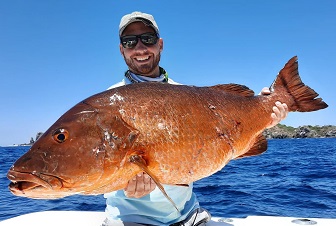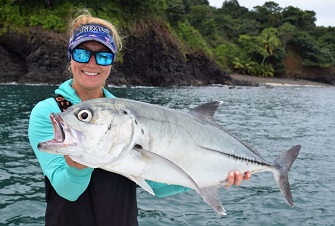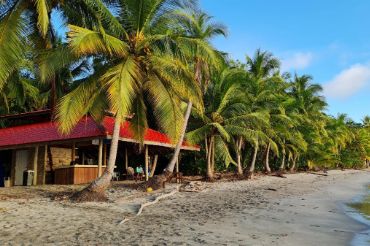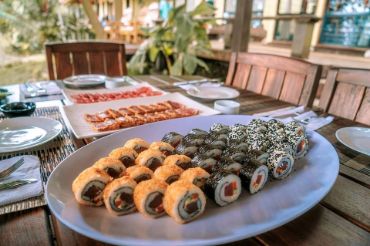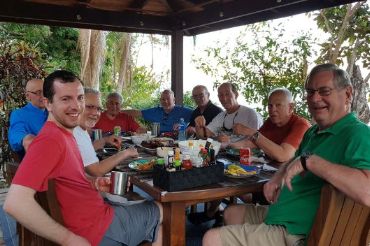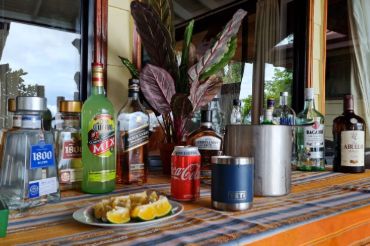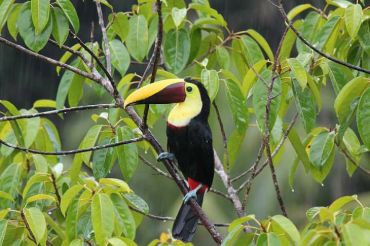 Baja Fishing Adventures
Mailing Address:
127 12th Street
Seal Beach, CA 90740